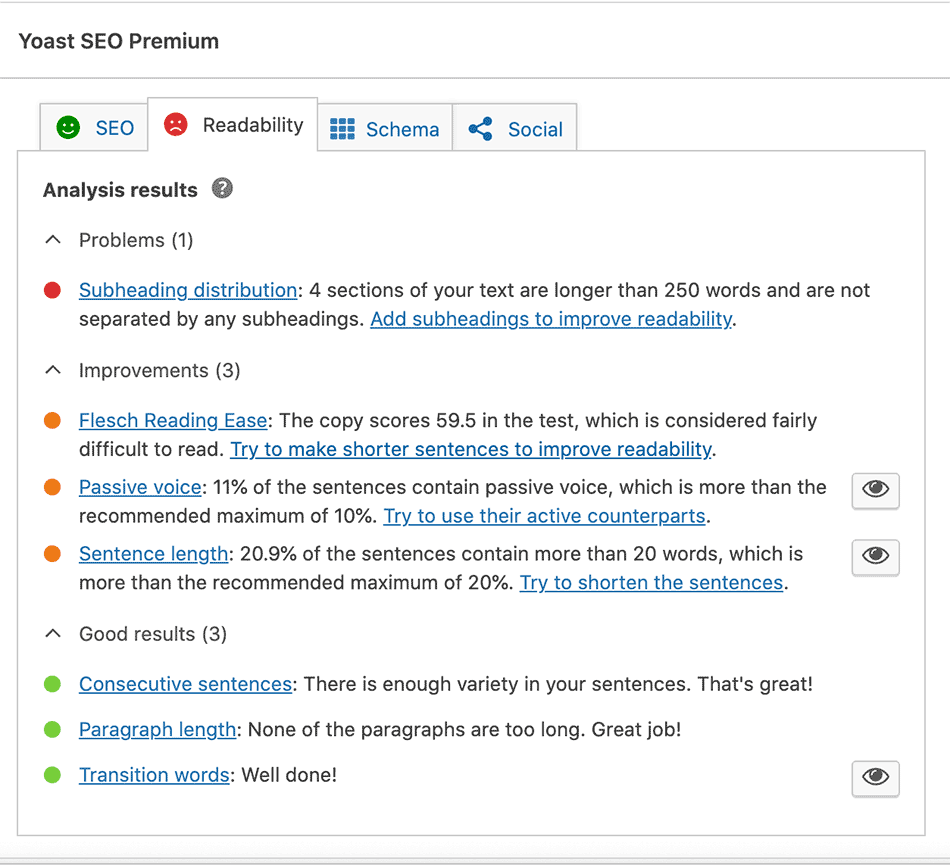 What is a Content Audit?
A content audit—inventory and analysis of the content you have today—is a cornerstone activity in any content strategy endeavor. In fact, many people (incorrectly) equate content audits with content strategy. An audit can reveal a great deal about your content, and it's critically important to be prepared, so that you get valuable knowledge out of the effort.

— Hilary Marsh, Content Company
A content audit is the process of collecting and analyzing content elements against specific performance criteria on some or all of a website. Regular content audits can help digital teams identify trends, fill content gaps, speed up page downloads, improve accessibility, reduce emissions, track editorial changes, and more.
Answer Key Content-Related Questions
More importantly, regular audits improve content quality for your users and help you better meet business goals over time. They are an essential part of a successful, long-term content governance strategy. A content audit will also help you better organize site content and understand which pages to save, which to dump, and which might be better served when combined with other pages. Content audits can be a driving force for an overall content strategy and can help you make more informed digital marketing decisions as well.
When Should I Run a Content Audit?
When Content Marketing Runs Amok
We cover good content governance practices extensively on this blog. Content governance helps you better manage website content over time. However, many organizations don't effectively govern their content marketing efforts.
Rather, the emphasis is typically on creating more content more often and experimenting with new topics and different ways to provide value to customers. Over time, these efforts (hopefully) improve performance toward specific business goals.
However, not every content experiment works. What about all that content that is outdated, didn't meet your goals, or otherwise irrelevant in some way? Here's where a content audit can improve content marketing. To clarify, regular audits let your marketing team evaluate what's really working versus what's confusing users or not performing as intended. Also, as a team effort, the audit process can improve consistency and foster better collaboration.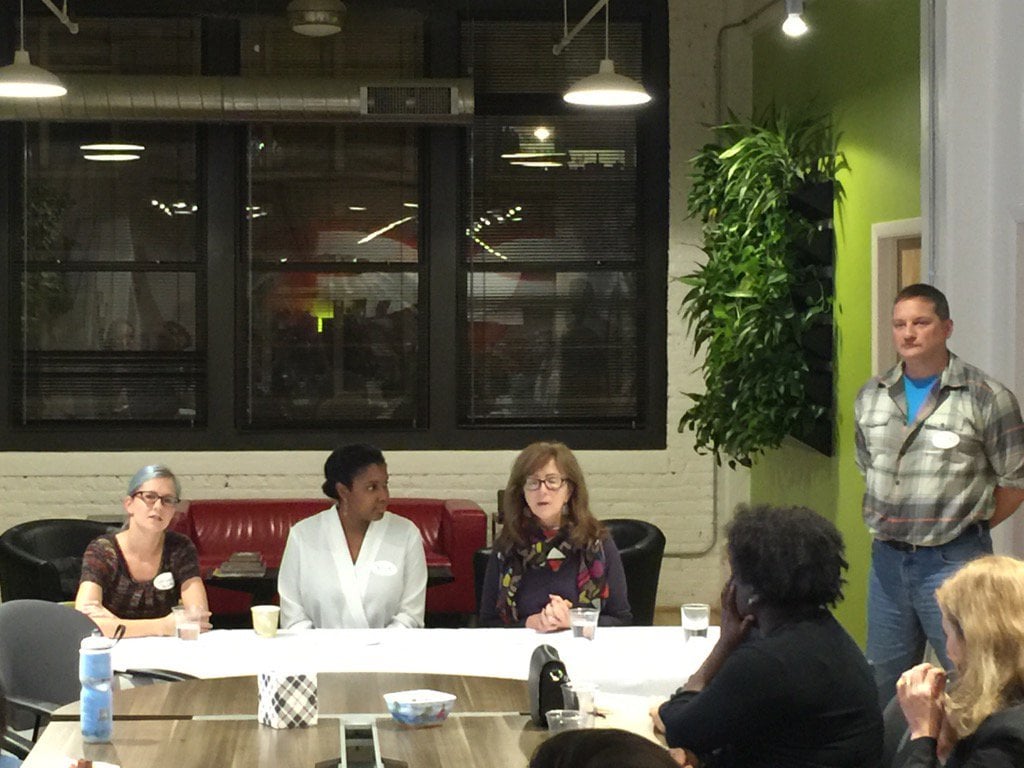 Discussing content audits during a website redesign panel event at Mightybytes.
Auditing Content During a Website Redesign
Content audits are also very useful during a website redesign. Content migration is key to any successful redesign project. Migrating content that is irrelevant or out-of-date wastes time, effort, and money. A content audit can help you streamline this process.
However, as you bring stakeholders into the project, be prepared for pushback. People tend to hold onto tradition, i.e. "But that's always been on our website." Be sure to carefully analyze the value each piece of content brings to your customers and your business. A content audit can help you make tough decisions regarding what stays and what goes.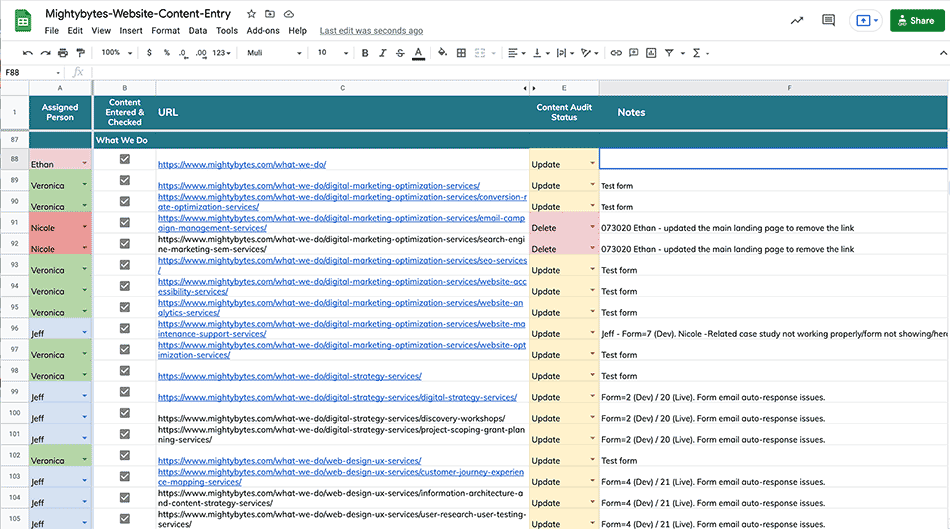 Migrating the Mightybytes website to Gutenberg provided a great opportunity for us to run a content audit.
Auditing Content as Part of a CMS Upgrade
For example, WordPress released Gutenberg, its block-based content editor, in late 2018. To upgrade, you'll need to convert existing page-based content into individual components, or blocks. During the upgrade, some content blocks may require customization. Again, there's no sense in migrating or upgrading content that's outdated or irrelevant.
Content Audit Frequency
There are no hard and fast rules regarding how frequently you should perform a content audit. This will vary from organization to organization depending on your capacity, the amount of content you produce, and any of the scenarios mentioned above. In most cases, we recommend that you consider an audit at least once per year, more often if you produce a lot of content or have many authors.
Step 3: Collect and Analyze Data
Data collection is a complex and lengthy process. Usually, you have to recover data from multiple sources and add it manually to your spreadsheet. If you want to save time, use a content audit tool that automatically collects data according to your goals and metrics.
The Semrush Content Audit tool audits your website content and provides you with various data, such as social shares from Twitter and Facebook, backlinks, metadata, content authors, and content length for each URL.
Connect your Google Analytics and Google Search Console accounts to add depth and breadth to your data. You'll be able to see additional metrics for each URL, including sessions, average session duration, pageviews, average time on page, bounce rate, and search queries.
To gather the performance metrics of your guest posts or any content published on third-party websites, you can use the Post Tracking tool. The tool tracks articles' keyword rankings, shares, backlinks, and referral traffic on a daily basis.
Google Analytics helps you to understand which content is performing best in terms of traffic, engagement, and conversion rates. You will also be able to estimate how effective your content has been in achieving your marketing and business goals.
Semrush Position Tracking allows you to track your rankings for target keywords. This tool can help you find content with good SEO potential (for example, web pages that ranked in the top 5 before, or pages ranking close to the top positions). By updating these pages, you can quickly reach better positions in search engines.
ContentWRX Audit. Using this tool, you can get information about your file types, metadata and page-level details that include images, documents, video, and screenshots of every page. You will also be able to sort your results, and export data for offline analysis.
Content Square helps you to analyze user behavior to understand what is and isn't working on your web page, and conduct a customer journey analysis accordingly. You can assess your page elements in terms of impact, performance, and usability to identify areas for subsequent updates.

How to Interpret Your Content Audit Data
For example, your web page can attract a lot of traffic, but have a high bounce rate and low session duration. This means that users are interested in your topic, but the content didn't offer them what they wanted. In this case, you have to assess different elements of your content to understand why users are leaving your web page. The problem can be rooted in your content's relevance to titles, CTAs, or the page load time.
You should also take into account the different stages of the buyer's journey. Your 'Awareness' content may attract more traffic, but have a lower conversion rate. Your 'Consideration' content may have less traffic, but generate more leads, and so on.
Assess Your Content Assets
The content audit might help you find the web pages that are not performing well. Try to review this content and figure out how you can make it more effective. You may also find some content with outdated information that needs to be revised.
If you are unable to improve a piece of content, or an update would take too much resource, removing it from your website may be an acceptable option. You may also have some old seasonal marketing campaigns that are no longer needed.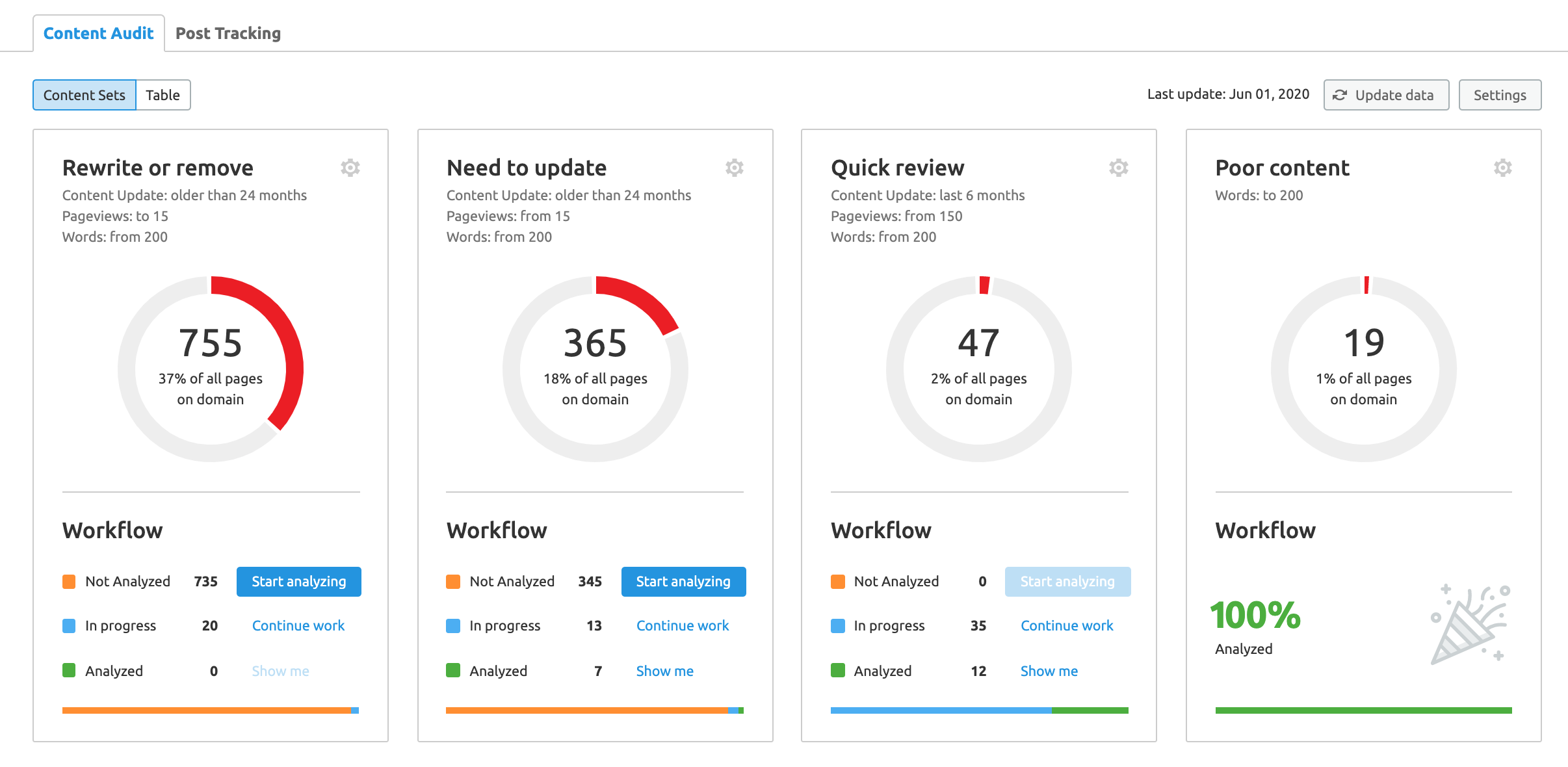 Performing a Content Audit for Success
Before we really get into discussing content audits, I should briefly discuss the prerequisite of an audit: a content inventory. A content inventory is kind of like taking inventory of produce or goods in a grocery store, except it's dealing with all of your website content including all text, images, documents and applications. To gain a true understanding from your content inventory you will need to assess each piece of content on your website to make sure it's in the proper location and up to date—all of which is imperative.
As you can probably imagine, content inventories can get quite massive, especially for websites that are information-rich (i.e. blogs). Compiling your inventory on a spreadsheet will allow you to sort and filter through the data with ease. However, it's important to keep in mind that this can be very time consuming—another reason why utilizing a sitemap generator would be beneficial.
After you've completed your content inventory you will be ready to turn that inventory into a significant content audit, one that will help to transform your website and its success. It is recommended that you perform an assessment of the raw data the content inventory provided you with. This assessment will vary from user to user depending on what you're hoping to learn.
Upon completion of your assessment, you can choose what kind of content audit makes the most sense for you and your website needs. It's common for audits to track what website pages should be removed, whether the content within the website should be revised or revamped, and what website content should be written or added to your website in order to fill in the gaps. Furthermore, a content audit will help you track and understand where content should be mapped to if it's being moved or redirected.
A content audit is imperative to the success of content marketing campaign, SEO strategy and your website's maintenance as a whole, regardless of how established or new your website is. For newer websites, a content audit will help you understand what it will take to compete in your market, what market opportunities you might have and it will allow you to truly understand the importance of blog and high-quality content, especially when it comes to your success. After all, companies that have incorporated a blog into their website get 55% more web traffic than those that don't.
Existing websites will have the ability to learn about the health status of their online presence to ensure that their website is optimized at code level and content level. Additionally, website owners of an existing site will learn what inbound links may be necessary for success, find more unique and quality keywords within the market and improve on social media presence.
Keeping all of this into consideration, there's really not one correct approach to conducting a content audit. That said, the exact steps that a website owner takes will depend on their reason for undergoing an audit in the first place. With that said, it's typical for content audits to be conducted for two primary reasons including:
SEO Purposes. Conducting a content audit for SEO purposes will help you identify any weak spots in your website's SEO. For instance, by labeling word count, different tags, optimized images and other elements associated with your website content and comparing those elements to your current page rank, you will be able to determine what kind of changes need to happen in order to improve your website's natural search performance. Thus, boosting yourwebsite's performance considerably.
Content Marketing. Content marketing is a big deal for small to large businesses, ecommerce websites and basically any other website that is looking to surpass their competitors in the search engines (i.e. everyone). A content audit will help you assess the current status of your content marketing efforts so that you can work to improve on those efforts. Instead of looking at page optimization factors, you will want to concentrate on things like page length, visit metrics and social shares in order to determine how your audience is responding to your content and consequently, how you should alter your content marketing efforts from there on out.
Now, a good content audit can be a very time consuming process without utilizing a content inventory tool like DYNO Mapper. Without a proper software you will find that the undertaking of a content audit will be quite massive, taking a lot of time and energy. There are other options, however, such as utilizing an outsourced worker through various outsourcing websites such as Upwork, Guru or Elance, but a content inventory tool is likely to be much more cost-efficient in the long run as you will need to complete content audits in the future.
As you can see, it's almost impossible to have a successful content marketing strategy without high quality content. And while your website can have top notch website content without a content inventory and audit, these tools will help to ensure that everything is as it should be—if not better. Furthermore, if you perform a content inventory and audit on a regular basis you could literally watch your website surpass any competitors, ranking high in search engines.
Source:
https://www.mightybytes.com/blog/how-to-run-a-content-audit/
https://www.semrush.com/blog/content-audit-for-content-marketing-strategy/
https://dynomapper.com/blog/12-content-audits/154-importance-of-content-audits-for-content-marketing-success